Same Car. Lower Payments. Cash in Your Pocket.
It pays to refinance your auto loan with Champion Credit Union! If you have an auto loan with another lender, bring it to Champion Credit Union and get 2% cash back¹ the same day!
View answers to FAQs about refinancing  here.
Have you already refinanced and got your cash back? Share the news with your friends and family for a chance to win great prizes! Did you use your cash for a mini vacation? Snap a photo! What about a nice takeout dinner for a picnic? Say cheese! Take a photo or video, post it on Facebook, Instagram, and/or Twitter, tag us and use the hashtag #CCUThisCouldBeYou to be entered into a drawing for a prize².
Help us spread the word! Once you have posted your photo or video on social, email³ it
here
and you can become an influencer for Champion Credit Union!
Note: Applications will be processed during business hours; Monday - Thursday 8 am - 5 pm, Friday 8 am - 6 pm. We will reach out to applicants for further information during business hours.
 ¹Cash back is 2% of the loan balance up to $1,000. Cash back incentive program is only available for auto loans not currently financed with CCU. Existing auto loans currently financed with CCU do not qualify for this incentive program. Minimum loan amount $5,000. All loan approvals are subject to normal underwriting guidelines. Rates, payment, and other terms are based on the type of loan, collateral, amount of loan, and creditworthiness. Not all members will qualify for the lowest rate and payment may not be lower for every member. Amounts earned may be reported to the IRS.
²Winners will be selected at random.
³By emailing your photo and/or video to Champion Credit Union, you are authorizing Champion Credit Union to use the material in  marketing advertisements, including but not limited to digital audio and visual advertisements, social media, website, etc.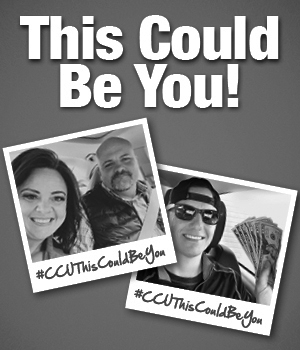 Help us spread the word and become a CCU influencer!