Use Digital Wallet to make fast, convenient, contactless transactions with your Champion Credit Union VISA
®
debit or credit cards right from your mobile devices. With Digital Wallet, your card number and personal information are never shared with merchants, offering you the utmost in security when you make a purchase in stores, in apps, or on the web.

Pay with your Digital Wallet wherever you see the Contactless Payment Indicator pictured below.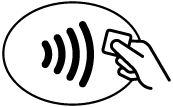 In addition to storing your Champion Credit Union VISA
®
debit or credit card, you can also add gift cards, airline boarding passes, coupons and more to your Digital Wallet. Everything is conveniently located in one safe space and always at your fingertips.

For simple step-by-step instructions on setting up and using your Digital Wallet, select your preferred platform below.
Please note:
if you are only given the option to verify by contacting Champion Credit Union when setting up your Digital Wallet, you will have to update the email address and/or phone number that we have on file for you.